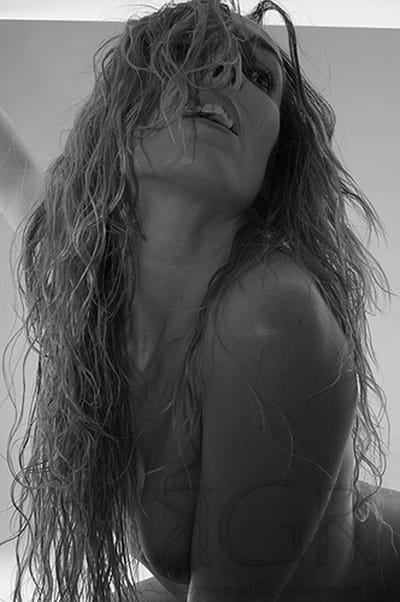 With reference to her career, she worked at the National Ballet of Spa/ (removed)in for more than a decade, performancing choreographies as Soloist and as Lead Dancer. She has participated in TV shows and theather plays as well.
Actually, she combines jobs as dancer, actress and model in international level.
Her experience as a dancer makes her a perfect candidate for a stylized photographic model. Her experience as a performer creates an artistic ambience that photographies can reflect faithfully.
I am a multidisciplinary artist
My passion is art. I like all kinds of art and photography has many possibilities to explore. Glamor, Boudoir, Fetish, Shibari, Performance. BDSM..etc
I like to contribute my experience in dance, and Performance Artist and
Put it at the service of photography
Raquel Gómez was born in Madrid, Spain, and was encouraged to start dancing at the age of three by her parents, due to the fact that they were also dancers.
She has a wide variety of dancing learning, being especially noteworthy her training in "La Escuela del Ballet Nacional de España" directed by María de Ávila when she was nine years old.
EDUCATION
Graduated in Spanish Dance with honours, she increased her knowledge with the following masters:
Classical Dance: Lola de Ávila, Ana Baselga, Aurora Pons, Julia Estévez, Rosa Naranjo, Aurora Bosch y Mirta Plá (Lead Dancer of "Ballet de Cuba"),Carmen Roche, Jorge Esquivel (Lead Dancer of "Ballet de Cuba"), Carmina Ocaña, Virginia Valero.
Escuela Bolera: Mariemma, Eloy Pericet, Victoria Eugenia, Aurora Pons,
Spanish Dance: Victoria Eugenia, José Granero, Paco Romero, José Antonio, Aida Gómez.
Folklore: Juanjo Linares, Pedro Azorín.
Flamenco: Ciro, Paco Fernández, Javier La Torre, Currillo, Antonio Canales.
Modern/Contemporary Dance: Carl Paris, Teresa Nieto, Ramón Oller
EMPLOYMENT HISTORY
She started in the "Ballet de María Rosa" and later she became a dancer in the "Ballet Nacional de España" at the age of sixteen.
1989 She performed in "Don Juan" with music of José Nieto and choreography of José Antonio
1991 She performed in "Solea por Bulerías" with choreography of José Antonio
1992 She performed in "La Vida Breve" of Manuel de Falla and choreography of José Antonio, in "Teatro Colón" in Buenos Aires, coproduction of this theatre and B.N.E.
She also participated in the "Gala Iberoamericana de Danza" (Madrid) with Alicia Alonso, Julio Bocca, Eleonora Casano, Trinidad Sevillano, Lola Greco, etc. dancing the choreography "Ritmos" of B.N.E.
1993 She participated in the RAI-RTVE programme "Los Divinos" with Yuri Klevtosov, Eric Uvan, Julio Bocca, Joaquín Cortés, Marco Berriel, Nacho Duato and Lola Greco, among many other great international artists
1994 She performed in "Leyenda" with music of Isaac Albéniz and José Luis Greco, and "Cuentos del Guadalquivir" of Joaquín Turina, both creations of José Granero
"A Ritmo y a Compás" of José María Bandera and Carlos Gómez with choreography of Currillo
1995 She performed in "Flamenco" of José María Banderas and Carlos Gómez with choreography of Currillo
1996 She performed in "La Gitanilla" with music of Antón García Abril and choreography of José Granero
"Romance" of Elíseo Parra and choreography of Juanjo Linares and Pedro Azorín
1997 She performed in "Grito" of Antonio Canales with music of José María Banderas, José Carlos Gómez and José Jiménez "el Viejín"
1998 She was promoted to the rank of Soloist.
She performed "Luz de Alma" and "Poeta" of Vicente Amigo, both choreographies of Javier La Torre with music of Vicente Amigo and stage direction of La Fura del Baus
"La Celestina" of Carmelo Bernaola, choreography of Ramón Oller.
"Mensaje" of Vicente Amigo for Aida Gómez.
She also danced in the "Gala Conmemorativa del XX Aniversario del Ballet Nacional de España"
1999 She was promoted again to a Repetiteur, a category consisting of teaching and coaching all the repertoire, and direct the Company rehearsals
She was the Lead Dancer in:
"Danza y Tronío" in Escuela Bolera with music of Bocherini, Padre Soler, Antón García Abril and choreography of Marienma
"Eritaña" in Escuela Bolera with choreography of Antonio el Bailarín
"Fantasía Galaica" Folklore dance with music of Ernesto Halffter and choreography of Antonio el Bailarín
"Concierto de Málaga" Flamenco dance with music of Federico Moreno Torroba and choreography of Manolo Marín
2000 She started to give classes and short courses along with her activity as a professional dancer, standing out the following relevant activities:
2006, she became part of the "Festival Internacional de Estrellas de la Danza" in "Teatro Teresa Carreño" in Caracas (Venezuela), representing Spain with the choreography "Reencuentro sobre rojo y gris" of Paloma Gómez
2012 she conducted master classes of "Escuela Bolera" in "Ensemble Español Centre" in Chicago (USA), and also acting as a guest artist
At present, she balances her work as a teacher and guest soloist nationally and internationally, with her participation as a dancer in the stage play "Rotas" under the stage direction of Luis Lorente and choreography direction of Paloma Gómez since its May 2014 premiere in the "Teatro Marquina" in Madrid, and in November 2014 premiere in Chicago (USA)
2015 In June she acted as a guest artist in the "American Spanish Dance & Music Festival" of Chicago
She made a debut in "Sur", choreography of Escuela Bolera for the "Compañía de Danza Ensemble Español"
2016 She was invited by the "Real Conservatorio Profesional de Danza" of
Córdoba to teach master classes of Escuela Boloera on the occasion of their 50th anniversary
She also participated in the motion picture "Rotas, bailando la vida misma" as an actress and dancer, under the direction of Luis Lorente, released in the "Festival de Cine Latino" of Chicago (USA), and later on in Madrid
2017 In April, she was invited as a teacher by the "Real Conservatorio Profesional de Danza Antonio Ruiz Soler" of Sevilleis for the Cultural Week
In July, she was also invited to teach classes of Escuela Bolera in the "Conservatorio Profesional de Danza Carmen Amaya" of Madrid